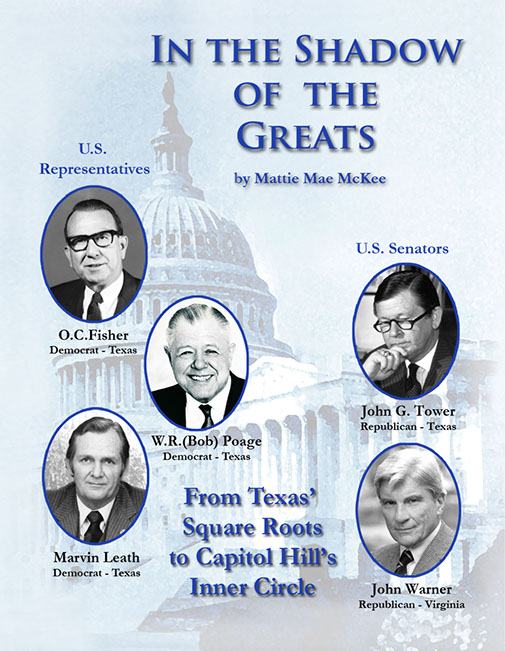 There are two purposes for writing this book. First: U. S. Representative O. C. Fisher, my first congressional boss and valued friend until his death in his hometown of Junction, Texas, December 9, 1994, consistently pointed out that everyone has a tale to relate. He was resolute that every life story should be penned "to plug another piece of history." Though somewhat tardy in taking Mr. Fisher's advice, I am excited now to record my memoirs of the time I was privileged to work on Capitol Hill. The second purpose, intertwined with the first, is to tell of a Capitol Hill free of the burdens and necessity of the cumbersome, restrictive and inconvenient security checks now in place. The metamorphosis to a secured Hill of today graduated to absolute controlled security almost overnight. Life was different, less complex and simple in the 1960s, 1970s and early 1980s.
Good story-telling, authentic history
By Brad Smith on August 22, 2015
In the Shadow of the Greats is good story-telling and insightful history. Most books about political figures seem to have a political agenda to prove; a doctoral research committee to impress; a polished professional style or a morbid focus on sordid drama in order to sell more copies. This book seems like a cool Texas evening sitting on a front porch watching bugs in a spotlight and listening to Forest Gump dig through his scrapbook and talk about the story behind each photo and scrap of paper. However, unlike Gump, Mattie McKee is neither a naive nor accidental witness to history. Mattie McKee tells these stories from the vantage point of being the personal, executive and office assistant to men in political office during a simpler time. When I worked for Senator John Tower, I recognized that while the rest of us were experts in our area of policy, Mattie was THE expert on the myriad of relationships that circled the Senator. She was a psychologist, human lie detector, and character discerner all wrapped up into one southern blonde charmer. Her response to people helpful to the Senator was a gracious Texas welcome that made them feel like they were the most important person on the earth. For the others, they got the stubborn "NO" of a muscle-bound night-club bouncer delivered with the charm of a Steel Magnolia. Mattie could out stubborn any of the many accomplished or famous adult toddlers who wanted something from the Senator. She never overstepped her bounds, yet she never a let a jerk through the gates without proper escort, leash or warning. This book covers the speeches, photos, historical events, and background stories that span 2 decades from her vantage point of working on Capitol Hill for three Democrat US Representatives from Texas, and US Senators John Tower and John Warner. This book is a fresh and entertaining telling of the best of the stories of this era of Washington political history. Dr. Brad Smith, President, Bakke Graduate University
In the Shadow of the Greats is a GREAT visit into our historical past...
By Russell Smith on September 11, 2015
What a great read!!! I was impressed by this look inside our government back during a time when Statesmen roamed those halls. Mattie McKee was there and she gives us a glimpse inside the issues and the decisions made by those elected to do the job... Filled with pictures that are exceptional, In the Shadow of the Greats allows the reader to know what you otherwise might not have ever known. Her inclusion of tidbits about Martin Luther King, President John F. Kennedy and Lee Harvey Oswald are insightful and O.C. Fisher's history of Watergate was concise, direct and informative. From socials to the military to the 2nd amendment to the hardest legislative decisions made, McKee's writing kept me moving from page to page - until I was finally at the well documented end-notes at the back. Really enjoyed this piece of American and Texas history.
Russell S. Smith author of The Gun That Wasn't There (and others)
with fun along the way
By Maureen Byrd on October 4, 2015
I had the honor of going to school with Mattie from first grade thru high school. She has written this book in the way I want to read one. Full of Texas History, with fun along the way, as well as the saddness. You learn things about these great men that no history book can teach. It is Mattie's personal involvement with the Washington family that teaches us about their integrity, loyalty to their people, and the hard work they did for all those years. Thank you Mattie for this wonderful story. Maureen Byrd
Great Read
By Briana M. Gowing on September 16, 2015
Verified Purchase
Loved this book. Mattie did an excellent job of weaving history throughout her story of being a much-relied on aide, friend and cheerleader to some important elected Texas political figures. Her wit and charm shines through. She's also very kind to everyone. It was smart of her to keep some great notes and a diary while working on Capitol Hill.
I can vouch for her being creative and fun while getting the job done.